Below is a list of recent books, films, and selected journal publications from CRG-affiliated faculty.
2011-2012
Books:
Animacies: Biopoitics, Racial Mattering, and Queer Affect
(Duke University Press, 2012)
Mel Y. Chen, Gender & Women's Studies

In Animacies, Mel Y. Chen draws on recent debates about sexuality, race, and affect to examine how matter that is considered insensate, immobile, or deathly, animates cultural lives. Toward that end, Chen investigates the blurry division between the living and the dead, or that which is beyond the human or animal. Within the field of linguistics, animacy has been described variously as a quality of agency, awareness, mobility, sentience, or liveness. Chen turns to cognitive linguistics to stress how language habitually differentiates the animate and the inanimate. Expanding this construct, Chen argues that animacy undergirds much that is pressing and indeed volatile in contemporary culture, from animal rights debates to biosecurity concerns.
The Obama Phenomenon: Toward a Multiracial Democracy
(University of Illinois Press, 2011)
Charles P. Henry (ed), African American Studies; Robert Allen (ed), African American Studies; Robert Chrisman (ed), African American Studies
Barack Obama's campaign and electoral victory demonstrated the dynamic nature of American democracy. Beginning as a special issue of The Black Scholar, this probing collection illustrates the impact of "the Obama phenomenon" on the future of race relations within the United States through readings on Barack Obama's campaign as well as the idealism and pragmatism of the Obama administration. Some of the foremost scholars of African American politics and culture from an array of disciplines - including political science, theology, economics, history, journalism, sociology, cultural studies, and law - offer critical analyses of topics as diverse as Obama and the media, Obama's connection with the hip hop community, the public's perception of first lady Michele Obama, voter behaviour, and the history of racial issues in presidential campaigns since the 1960s. Contributors are Josephine A. V. Allen, Robert L. Allen, Herb Boyd, Donald R. Deskins Jr., Cheryl Harris, Charles P. Henry, Dwight N. Hopkins, John L. Jackson, Maulana Karenga, Robin D. G. Kelley, Martin Kilson, Clarence Lusane, Julianne Malveaux, Shaun Ossei-Owusu, Dianne Pinderhughes, Sherman C. Puckett, Scharn Robinson, Ula Taylor, Alice Walker, Hanes Walton Jr., and Ronald Williams II.
HIV Prevention with Latinos: Theory, Research, and Practice
(Oxford University Press, June 2012)
Kurt C. Organista (ed), School of Social Welfare
This book, written by leading authorities on theory, research, and practice in preventing HIV with diverse Latino populations and communities, responds to the diminishing returns of the behavioral model of HIV risk by deconstructing the many social ecological contexts of risk within the Latino experience. Each of the chapters explores the most innovative thinking and original research on the prevention of HIV for a comprehensive span of subgroups and situations, including: preventing HIV in LGBT Latinos through community involvement and AIDS activism; in migrant laborers by scaling up community and cultural resources; in adolescent Latinas by facilitating communication with their mothers about sex; by decreasing the racism, homophobia, and poverty often experienced by Latino men who have sex with men; in transgender Latinas by decreasing familial, peer, and social rejection, and by providing structures of care at local, state, and national levels; and in Latinas by improving their economic autonomy as well as improving gender-equity ideologies among men.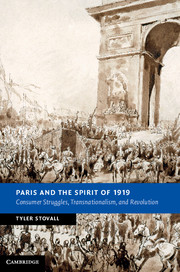 Paris and the Spirit of 1919: Consumer Struggles, Transnationalism, and Revolution
(Cambridge University Press, March 2012)
Tyler Stovall, History

This transnational history of Paris in 1919 explores the global implications of the revolutionary crisis of French society at the end of World War I. As the site of the peace conference Paris was a victorious capital and a city at the center of the world, and Tyler Stovall explores these intersections of globalization and local revolution. The book takes as its central point the eruption of political activism in 1919, using the events of that year to illustrate broader tensions in working-class, race, and gender politics in Parisian, French, and ultimately global society which fueled debates about colonial subjects and the empire. Viewing consumerism and consumer politics as key both to the revolutionary crisis and to new ideas about working-class identity, and arguing against the idea that consumerism depoliticized working people, this history of local labor movements is a study in the making of the modern world.
New Perspectives on Slavery and Colonialism in the Caribbean
(Amrit Publishers, 2012)
Stephen Small (ed), African American Studies; co-edited with Marten Schalkwijk

Analysis of slavery in the Caribbean, including variations in the nature, functioning and legacies of slavery across territories with different imperial masters - including the English, Spanish and French - has a long history and has produced a very substantial literature. There is far less work on the Dutch Caribbean, including Suriname. This reader makes a contribution to increasing our attention on the Dutch Caribbean, as well as its relationship to institutional practices and themes common elsewhere in the Caribbean.
Films:

Slaying the Dragon: Reloaded
DVD (30 min). Dir. Elaine Kim. 2011
Elaine H. Kim, Ethnic Studies

Slaying the Dragon: Reloaded is a 30-minute sequel to Slaying the Dragon. Reloaded looks at the past 25 years of representation of Asian and Asian American women in U.S. visual media — from blockbuster films and network television to Asian American cinema and YouTube — to explore what's changed, what's been recycled, and what we can hope for in the future.
Selected Articles
Paola Bacchetta, Gender & Women's Studies

Mario Barrera, Ethnic Studies

Keith Feldman, Ethnic Studies

Susan Ivey, School of Public Health

Colleen Lye, English

Minoo Moallem, Gender & Women's Studies
Loic Wacquant, Sociology; Institute for Legal Research, Boalt Law School

2010-2011
Books:
Social Works: Performing Art, Supporting Publics
(Routledge, 2011)
Shannon Jackson, Rhetoric and Theater, Dance, and Performance Studies
At a time when art world critics and curators heavily debate the social, and when community organizers and civic activists are reconsidering the role of aesthetics in social reform, this book makes explicit some of the contradictions and competing stakes of contemporary experimental art-making.
Social Works is an interdisciplinary approach to the forms, goals and histories of innovative social practice in both contemporary performance and visual art. Shannon Jackson uses a range of case studies and contemporary methodologies to mediate between the fields of visual and performance studies. The result is a brilliant analysis that not only incorporates current political and aesthetic discourses but also provides a practical understanding of social practice.
Why Americans Don't Join the Party: Race, Immigration and the Failure (of Political Parties) to Engage the Electorate
(Princeton University Press, 2011)
Taeku Lee, Political Science and Law and Zoltan L. Hajnal (UC San Diego)
The book explores why so many Americans--in particular, Latinos and Asians--fail to develop ties to either major party, why African Americans feel locked into a particular party, and why some white Americans are shut out by ideologically polarized party competition. Through extensive analysis, the authors demonstrate that when the Democratic and Republican parties fail to raise political awareness, to engage deeply held political convictions, or to affirm primary group attachments, nonpartisanship becomes a rationally adaptive response. By developing a model of partisanship that explicitly considers America's new racial diversity and evolving nonpartisanship, this book provides the Democratic and Republican parties and other political stakeholders with the means and motivation to more fully engage the diverse range of Americans who remain outside the partisan fray.
For more info, here is an audio recording of Prof. Lee discussing research from his book at a CRG Thursday Forum: http://crg.berkeley.edu/content/political-parties-grassroots-resistance-audio
Elsewhere, Within Here: Immigration, Refugeeism, and the Boundary Event
(Routledge, 2011)
Trinh T. Minh-ha, Rhetoric and Gender and Women's Studies
Elsewhere, Within Here is an engaging look at travel across national borders--as a foreigner, a tourist, an immigrant, a refugee—in a pre- and post-9/11 world. Who is welcome where? What does it mean to feel out of place in the country you call home? When does the stranger appear in these times of dark metamorphoses? These are some of the issues addressed by the author as she examines the cultural meaning and complexities of travel, immigration, home and exile. The boundary, seen both as a material and immaterial event, is where endings pass into beginnings. Building upon themes present in her earlier work on hybridity and displacement in the median passage, and illuminating the ways in which "every voyage can be said to involve a re-siting of boundaries," Trinh T. Minh-ha leads her readers through an investigation of what it means to be an insider and an outsider in this "epoch of global fear."
Imprisoned in a Luminous Glare: Photography and the African American Freedom Struggle
(University of North Carolina Press, 2011)
Leigh Raiford, African American Studies
In Imprisoned in a Luminous Glare, Leigh Raiford argues that over the past one hundred years activists in the black freedom struggle have used photographic imagery both to gain political recognition and to develop a different visual vocabulary about black lives. Raiford analyzes why activists chose photography over other media, explores the doubts some individuals had about the strategies, and shows how photography became an increasingly effective, if complex, tool in representing black political interests.
Rallying for Immigrant Rights: The Fight for Inclusion in 21st Century America
(University of California Press, 2011)
Kim Voss and Irene Bloemraad, Sociology

From Alaska to Florida, millions of immigrants and their supporters took to the streets across the United States to rally for immigrant rights in the spring of 2006. The scope and size of their protests, rallies, and boycotts made these the most significant events of political activism in the United States since the 1960s. This accessibly written volume offers the first comprehensive analysis of this historic moment. Perfect for students and general readers, its essays, written by a multidisciplinary group of scholars and grassroots organizers, trace the evolution and legacy of the 2006 protest movement in engaging, theoretically informed discussions. The contributors cover topics including unions, churches, the media, immigrant organizations, and immigrant politics. Today, one in eight U.S. residents was born outside the country, but for many, lack of citizenship makes political voice through the ballot box impossible. This book helps us better understand how immigrants are making their voices heard in other ways.
For more info, here is an audio recording of Profs Voss and Bloemraad discussing research from their book at a CRG Thursday Forum: http://crg.berkeley.edu/content/political-parties-grassroots-resistance-audio
Journal Special Issue:
Michael Jackson in/as U.S. Popular Culture.
Journal of Popular Music Studies, Volume 23, Issue 1, March 2011
Tamara Roberts, Music and Brandi Wilkins Catanese, African American Studies & Department of Theater, Dance, & Performance Studies
Read the editor's introduction to the journal here: http://crg.berkeley.edu/content/jpms-mj
This issue was inspired by the symposium, "Michael Jackson: Critical Reflection on a Life and a Phenomenon," sponsored by the Center for Race and Gender on 10/1/2009.  Video of the symposium can be found here: http://crg.berkeley.edu/michael-jackson
2009-2010
Books:
Forced to Care: Coercion and Caregiving in America
(Harvard University Press, June 2010
Evelyn Nakano Glenn, Ethnic Studies and Gender and Women's Studies
Evelyn Nakano Glenn offers an innovative interpretation of care labor in the United States by tracing the roots of inequity along two interconnected strands: unpaid caring within the family; and slavery, indenture, and other forms of coerced labor. By bringing both into the same analytic framework, she provides a convincing explanation of the devaluation of care work and the exclusion of both unpaid and paid care workers from critical rights such as minimum wage, retirement benefits, and workers' compensation. Glenn reveals how assumptions about gender, family, home, civilization, and citizenship have shaped the development of care labor and been incorporated into law and social policies. She exposes the underlying systems of control that have resulted in women—especially immigrants and women of color—performing a disproportionate share of caring labor. Finally, she examines strategies for improving the situation of unpaid family caregivers and paid home healthcare workers.
Quixote's Soldiers: A Local History of the Chicano Movement, 1966-1981
(University of Texas Press, July 2010)
David Montejano, Chicano/Latino Studies
In the mid-1960s, San Antonio, Texas, was a segregated city governed by an entrenched Anglo social and business elite. The Mexican American barrios of the west and south sides were characterized by substandard housing and experienced seasonal flooding. Gang warfare broke out regularly. Then the striking farmworkers of South Texas marched through the city and set off a social movement that transformed the barrios and ultimately brought down the old Anglo oligarchy. In Quixote's Soldiers, David Montejano uses a wealth of previously untapped sources, including the congressional papers of Henry B. Gonzalez, to present an intriguing and highly readable account of this turbulent period.
Signs of the Time: The Visual Politics of Jim Crow
(University of California Press, 2010)
Elizabeth Abel, English
Signs of the Times traces the career of Jim Crow signs—simplified in cultural memory to the "colored/white" labels that demarcated the public spaces of the American South—from their intellectual and political origins in the second half of the nineteenth century through their dismantling by civil rights activists in the 1960s and '70s. In this beautifully written, meticulously researched book, Elizabeth Abel assembles a variegated archive of segregation signs and photographs that translated a set of regional practices into a national conversation about race. Abel also brilliantly investigates the semiotic system through which segregation worked to reveal how the signs functioned in particular spaces and contexts that shifted the grounds of race from the somatic to the social sphere.