AY 2010 - 2011 CRG Student Research Grantees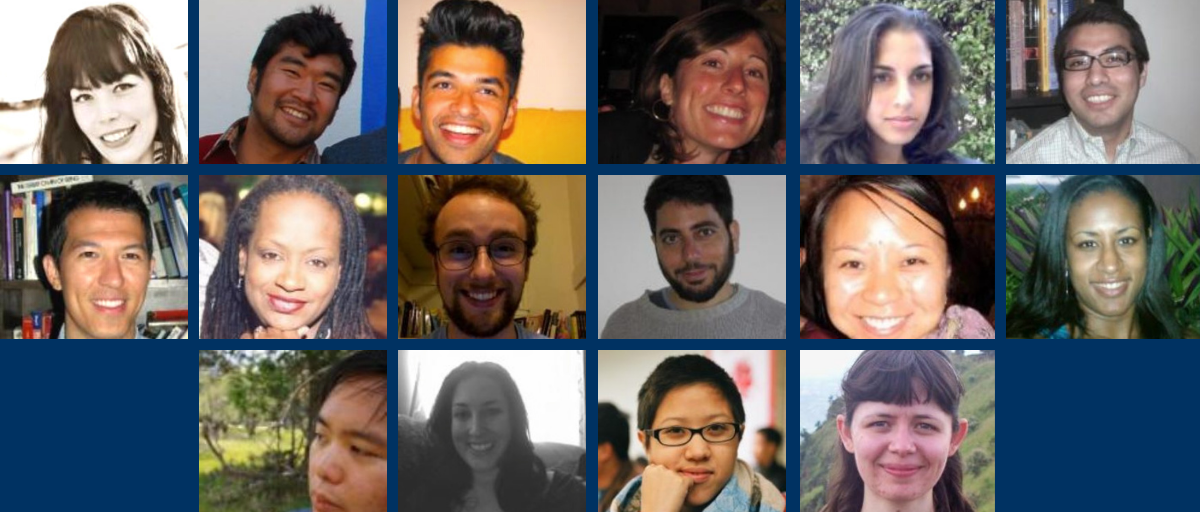 TRIA ANDREWS (Spring 2011)
Department:  Ethnic Studies
Project Title:  Rehabilitation for Native American Girls at a Facility Located on Tribal Grounds
My project will examine culturally relevant forms of rehabilitation for Native American girls at the Youth Wellness Renewal Juvenile Detention Center (YWRJDC), located on the Rosebud Indian Reservation (RIR) in South Dakota. My project for Summer 2011 will be one month of preliminary research for my dissertation focused on the formally instituted rehabilitation programs offered at YWRJDC, such as creative writing workshops, sweat lodge ceremonies, Lakota language and culture classes, and arts and crafts groups. My project will be threefold. First, interviewing program directors and community leaders working with incarcerated girls will allow me to glean information about the intent and effects of these methods and whether in addition to centering race, the programs also account for gender and the experiences particular to Native American girls. Second, through participant and non-participant observation, I will attend tribal council meetings to focus on how members of the community perceive these programs. Third, with further research, I will develop a comparative study with an intersectional approach to race and gender that examines how the culturally relevant healing methods offered at YWRJDC differ from curriculum available for Native American girls at juvenile detention centers located off tribal grounds.
---
LINDSAY DILLON (Fall 2010)
Department:  Geography
Project Title:  The Politics of Place, Race, & Toxic Waste in Bayview Hunters Point
---
TADASHI DOZONO (Spring 2011)
Department:  Education
Project Title:  Converging Epistemologies: The Racialized and Gendered Knowledged Spaces of Test Preparation
In an atmosphere of continuous assault on public education, educators struggle to find strategies that balance required state exams against honoring their students' backgrounds. One such strategy is the application of hip-hop to teach content knowledge. What are the merits and drawbacks of such an application? While educators debate these merits, how do students experience this strategy? How do students view these spaces in education as gendered or racial knowledge spaces? My project aims to analyze these converging epistemologies alongside my students, employing my students as fellow researchers. I will simultaneously teach these students an established hip-hop curriculum in order to help students pass the state exam in global history and geography, and guide them through an analysis of this intersection of hip hop and standardized knowledge. This will be done in the context of a small urban Title 1 public school, with students, some of whom I taught global studies as ninth graders. Through a series of interviews and analytic activities, we will explore issues of whose knowledge counts as legitimate, issues of access to knowledge and culture, and the constructions of gender and race within these forms of knowledge.
---
SHARON FULLER (Spring 2011)
Department:  Environmental Science
Project Title:  Indigenous Fishing Practices of Gullah Geechee Women
My research will examine traditional fishing practices of Gullah Geechee women of South Carolina's Sea Islands. Gullah Geechee are descendents of enslaved West Africans who have preserved the cultural traditions of their ancestors. The ecological similarities of West Africa's Sierra Leone coastal region facilitated the juxtaposition of African fishing traditions upon South Carolina's established cultural practices. As a result, the indigenous knowledges of Africans of the Diaspora and Native Americans co-produced traditional fishing practices still evident today in the Sea Islands. My hypothesis is that resource management strategies informed by indigenous knowledge promotes ecological sustainable practices. Conventional resource management strategies however, typically conflate gendered perspectives into homogeneous frameworks in which women's critical engagement in natural resource management is obscured. The purpose of this study is to investigate gendered approaches to natural resources management in South Carolina's Sea Islands. In addition to examining fishing traditions produced by these cultural intersections, I will explore the notion of a symbiotic relationship between Gullah Geechee fisherwomen and ecological systems. Employing ethnographic methodologies I will attempt to assess significant local preoccupations and concerns and map critical relations orchestrating and structuring local practices and processes.
---
NILOFAR GARDEZI (Spring 2011)
Department:  English
Project Title:  "There Was A Vividness Of Life, An Intensity Of Being...": Recovering 'The Lost Years' of the 1940s-1960s in African American Literature & Culture
My project works to recover the "lost years" of the 1940s-1960s in African American literature and culture. Specifically, I turn to three critically neglected African American poets Gwendolyn Brooks, Robert Hayden and Melvin Tolson and their mid-century poetry to examine, formally as well as historically, how they represent the stories and lives of black women and men who helped to create and then lived in the postwar black urban communities of Chicago's Bronzeville, Detroit's Paradise Valley and New York's Harlem. The dominant story of race, housing conditions and representation in the postwar city is one of urban crisis, black invisibility and the formation of the blighted "black ghetto." I argue that these three African American poets tell the stories of growth, hope and possibility in the postwar city and use long form poems or poetic sequences to create composite portraits of burgeoning, variegated and complex black urban communities. They revive stories of black city life by experimenting with and pushing the limits and possibilities of narrative and characterization in the modernist long poem, revising and expanding upon a form that has been considered the exclusive domain of white male modernists to tell other city stories. Making visible these writers, their neomodernist work and the vivid communities of which they wrote begins the process of recovering this period in African American literature and culture.
---
ALVIN HENRY (Spring 2011)
Department:  Literature and Social Thought
Project Title:  Oral Histories from the Descendants of Former Slaves
This study collects the Oral Histories from the descendants of former slaves. This is the first study that directly engages with the children and grandchildren of former slaves. The Oral Histories qualitatively capture how both the experience and the memory of slavery have permeated into the lives of African Americans whose parents and grandparents were former slaves. Their unique perspective of slavery, through first-hand accounts or family stories, allow scholars for the first time to (1) parse how gender shaped experiences of slavery and how gender shaped the transmission and uptake of stories about slavery, (2) to understand how the trauma of slavery was passed on to future generation and what role slavery plays in the lives of the descendants of former slaves, and (3) to compare the Oral Histories of the descendants of former slaves to the WPA Slave Narratives to discover what the slave narratives failed to capture and how memories and attitudes towards slavery shifted over time by former slaves. The project aims to deposit these Oral Histories in the Bancroft Library's Regional Oral History Office (or another suitable library) for archival purposes and to post the Oral Histories online for public viewing and enrichment.
---
JASON KIM (Spring 2011)
Department:  Ethnic Studies
Project Title:  Dirty Clothes on the Color Line: Intersections of Race, Gender and Class
My dissertation project proposes to look at how innovations in late nineteenth and early twentieth-century domestic work and labor technologies were enlisted in creating and policing the boundaries of race, gender & class in both the United States and Canada. Thus, I ask: In what ways can we look at the history of the racialized and gendered division of labor in the American and Canadian context as reflective of the racial and gender anxieties of the time? How were changes in the status of white women and the transformation of the home interconnected with Asian labor migration? With these complex confluences of race, gender, labor, technology, and nation in mind, I propose utilizing a multi-layered comparative intersectional framework to answer these questions.
---
TOM PESSAH (Fall 2010)
Department:  Sociology
Project Title:  Making the State, War, and the Arab Enemy in Israel/Palestine, 1948
---
JADE SASSER (Fall 2010)
Department:  Environmental Science
Project Title:  Empowering Women, Save the Planet? Mobilizing Science and Strategy for Population-Environment Advocacy.
---
JOSHUA WILLIAMS (Fall 2010)
Department:  Theater, Dance & Performance Studies
Project Title:  "I am the Masses of My People": Teatro Campesino's Mythic Latinidad, 1973-1976
---
ELAINE YAU (Fall 2010)
Department:  Art History
Project Title:  Painted Words: The Art, Speech, and Performance of Sister Gertrude Morgan in New Orleans 1960-1980
NISHA BALARAM (Fall 2010)
Department:  Sociology, Interdisciplinary Field Studies, with a focus on Migration Theory
Project Title:  Marginalization and the Media: Framing Immigration in a Post-9-11 Framework
---
AARON BENAVIDEZ (Fall 2010)
Department:  Geography
Project Title:  The Rhetoric of Racialized Monumental Material Culture and the (Re)Production of Nation-State Identity in Post-Apartheid Johannesburg
---
MELISSA M. BARKER (Spring 2011)
Department:  Interdisciplinary Studies
Project Title:  The Social Impact of the Welfare Reform Act of 1996 on Single Mother Students Pursuing Higher Education
Single-mother students on welfare are a small, unique demographic in institutions of higher education. My preliminary research shows, more often then not, that social service caseworkers use discretion to impede, rather than support single-mother students in pursuit of higher education. In my Interdisciplinary Studies Field Major (ISF) thesis project, I will conduct a qualitative study of the academic trajectory of single mothers (SMs) on welfare who pursue higher education by transferring from community colleges to universities in California and Hawai'i. My research question is: How are single-mothers supported or discouraged throughout their experiences as students and welfare recipients? By critically assessing the Welfare Reform Act of 1996 as the legal framing of the contemporary "welfare to workfare" ideology, I will investigate how implementations of this statutory law create bureaucratic controlling processes and moralist state gatekeepers, as well as facilitates the need for advocacy organizations to enable success for SM students. The significance of this project ethnographically illustrates: (1) the historic defederalization of the welfare system, (2) the feminization of poverty, and (3) ethos of discretionary practices.
---
LAUREN HERMAN (Fall 2010)
Department:  Interdisciplinary Studies
Project Title:  Beyond the Market: The Rise of Microcredit Plus in Informal Sector Employment for Kenyan Women
---
LAN NGO (Spring 2011)
Department:  Environmental Sciences, South & Southeast Asian Studies
Project Title:  Vietnamese Low-Wage Worker-Needs Assessment
For my senior research project, I will conduct a needs assessment of low-wage female workers in the local Bay Area Vietnamese community. I will develop and implement a surveying project that will seek to explore the health and safety and labor and employment issues that low-wage Vietnamese workers face in the Bay Area. I will be working in collaboration with Equal Rights Advocates ("ERA"), a non-profit dedicated to protecting and expanding economic and educational access and opportunities for women and girls. An up-to-date, local survey and assessment is necessary in order to collect data regarding where Vietnamese populations are working, the nature of their work, and any accompanying issues and barriers that they face. This survey is a necessary first step in order to establish effective outreach and assistance programs that are tailored to the demographics and needs of this community. Currently there are no legal service-based organizations in the Bay Area that are providing direct services to Vietnamese laborers to address their workplace (labor/employment and health and safety issues). This pilot project will seek to gather the necessary information to formulate and create such a project.
---
NEVIN RAO (Spring 2011)
Department:  Environmental Econ and Policy
Project Title:  South-Asian Masculinity in the 21st Century: Exploring the Strategies Employed in Negotiating its Influence
In the United States, representations of South-Asian masculinity are limited to characters like 'bug' from Crossing Jordan or Kumar from Harold and Kumar – characters who are constantly reproduced as either nameless nerds or crass druggies. But how do young South-Asian American men understand their own masculinity? Just as the colonial British diffused South-Asian resistance through conceptions of English masculinity, so too does the power of white American masculinity influence South-Asian American men. I will explore the ways in which model minority ideology, pointing to South-Asians as successful examples of this ideology, works to subtly stifle any latent resistance and reassert patriarchal authority. My project aims to explore the unchartered territory of 21st century South-Asian American masculinity through the ethnography of a subset of South-Asian men attending or recently graduated from college. I will argue that it is against the backdrop of model minority ideology and American male hegemony that South-Asian masculinity is formed. I believe that without interrogating the image of the South-Asian man in America, other ways of being South-Asian in America, whether poor, struggling or queer, are rendered invisible and vulnerable, due to a lack of needed resources and support.
---
SON TRUNG CHAU (Spring 2011)
Department:  Ethnic Studies, American Studies
Project Title:  "AzNpRyDE": Pan-Asianism and Youth Culture in an Age of Cyberspace
Throughout the '90s, the early days of Internet served as an alternative space in which the first "digitized generation" of Asian Pacific American youths, predominantly pre-teen and teenagers, created, disseminated, and consumed a youth subculture popularly known as AzN PryDe (read: Asian Pride). Pan-Asianism and pride in one's respective ethnic identity were underlining themes in the aesthetics of this virtual renaissance of visual and music production. For those who took part or were aware of this "prolonged download of megabytes," a home-recorded, widely-shared hip hop mp3 called Got Rice?—its verses rhymed over the instrumental of the late 2Pac's Changes (1998)— well characterizes the transnational and diasporic nature of Asian Pride. This subculture, filled with numerous contradictions, promoted a reconnection to one's roots while simultaneously offering an avenue toward assimilation. On and off school campuses, Asian Pride also contributed to compounding racial tensions and gang violence in America's rapidly ever-changing racial landscape. In an era popularized by Black cultural politics and other identity politics enmeshed in hip hop like gangsta rap, Asian Pride precisely mirrors the ways in which Asian Pacific Americans sought a distinct identity between black and white, the virtual world and the real world. As young people are at the forefront of the information revolution, questions such as race, representation, nation, authenticity, and home are validly addressed in a technologically-mediated subculture like Asian Pride.