AY 2020 - 2021 CRG Student Research Grantees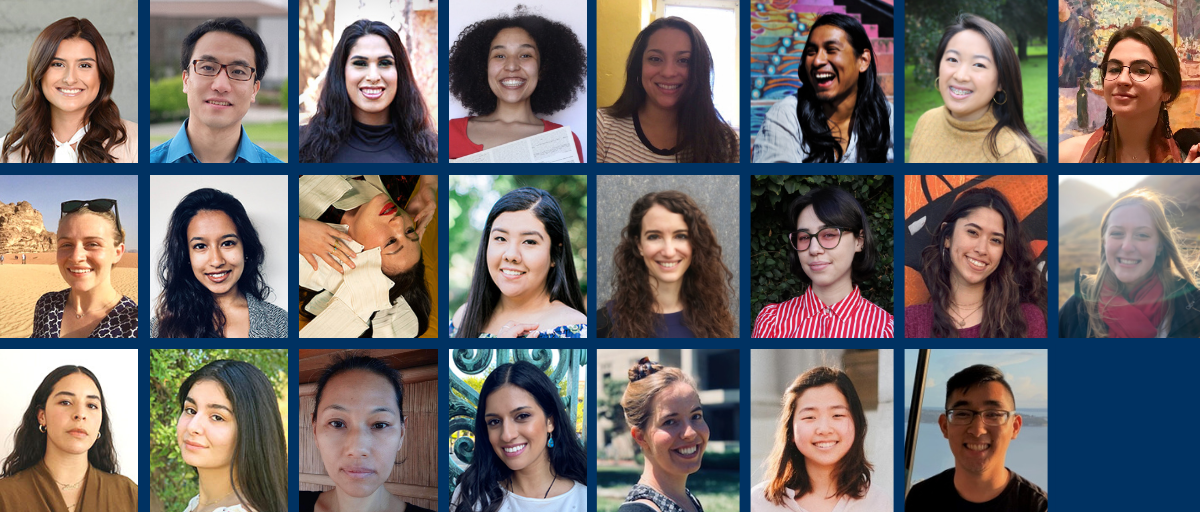 MITZIA MARTINEZ CASTELLANOS (Spring 2021)
Department: Jurisprudence and Social Policy 
Project Title:  From Illegalized to Legalized: A Study on Immigrants that Undergo Legalization
This study explores the transition that illegalized immigrants — immigrants made illegal and deportable by immigration law — undergo when they become holders of a lawful immigration status. Semi-structured interviews will be conducted with formerly undocumented young adults who have benefited from a legal immigration remedy that guarantees the attainment of a green card and/or U.S. citizenship; and undocumented young people that have not adjusted their status or may not be eligible for a legal immigration remedy. This study aims to uncover what may be the unforeseen consequences for immigrants, their self-concept and their sense of community when they become green card holders and U.S. citizens. I aim to examine what is overlooked when legalization is framed as the ultimate goal of the immigrant justice movement. It will record whether something is lost and/or whether something is exchanged through legalization. The experiences of legalized immigrants may emphasize that when advocacy is focused solely on legal solutions (e.g. amnesty), the social movement may be limited from understanding how law shapes the innate identities, the legal consciousness, and the relationship of legalized immigrants to the undocumented community.
---
AYA FABROS (Spring 2021)
Department: Sociology 
Project Title:  Institutionalized Precarity: States, Philippine Migrants and the Making of Global Worker Families, 1974-2020
How are migrant women and men maintained as precarious, essential workers for generations, why does intergenerational precarity persist amidst the expansion of origin-state protection, and with what consequences for the social reproduction of migrant worker families? My project traces the state-institutionalized trajectories of Barrio Mundo (BM) and Barrio Vaticano (BV) since the 1974 New Labor Code—the Philippine law often cited for producing "the most globalized labor force on the planet" (Rodriguez 2010) and the migration governance model currently replicated throughout the Global South. For nearly half a century, generations of Barrio Mundo women and men have been moving from one short-term contract to the next across multiple countries such as the United Arab Emirates, Taiwan, South Korea and Israel. Coursing through the state labor-brokerage infrastructure, BMs itinerant contractors maintain split-households in order to support a lifelong pattern of multinational, serial labor migration. Relying on family sponsorship and social networks, Barrio Vaticano migrants stay in one country and occupation for generations as domesticated wage-workers. Cultivated to subsist on domestic-work by state laws and church community networks since the 1970s, Barrio Vaticano women and men forge reunified households to survive as low-wage freelancers in Italy. With a rare longue-durée analysis of Philippine labor-export and its village implementation, my dissertation illustrates the institutional reproduction and intersectional effects of global precarity on longstanding overseas worker families.
---
JESSIE GARCIA GUTIERREZ (Spring 2021)
Department:  Public Health & Social Welfare 
Project Title:  Accessing the Effects of the COVID-19 Pandemic on the Mental Health of Transgender and Non-Binary People of Color
Most of the research on health disparities in the transgender and gender non-binary (TGNB) community encompass outcomes of mental health. These pre-pandemic studies have found that there are high rates of depression, anxiety, suicidal ideation, and self-injury within the TGNB community. The research also finds that the community has distinct healthcare needs from that of the general population. Some TGNB individuals choose to utilize hormonal treatment and/or undergo gender-affirming surgery/surgeries to address their gender dysphoria and feel more attuned to their gender identity. However, the COVID-19 pandemic has brought about many social changes and regulations (stay-at-home orders, social distancing, stress on the healthcare system, unemployment levels, etc.) that have had some consequential effects on TGNB individuals. Yet, there are limited scholarly articles that focus on the virus as it relates to the mental health effects of TGNB individuals in the U.S.  
The objective of this qualitative study is to examine how the COVID-19 pandemic has affected the mental health of TGNB people of color – an understudied and underrepresented community before the pandemic. The proposed research aims to examine the prevalent reasons related to changes in the mental health of TGNB people of color during the pandemic.
---
SARA KNUTSON (Spring 2021)
Department:  Anthropology 
Project Title:  Arabs and Slavs in the Global North: Perspectives on Race and Slavery in the Medieval Past
Scholarship on medieval slave trades, systems that connected communities across Eurasia, has long remained silent on important issues of race and its intersections with practices of slavery, colonization, and imperialism. My project intends to address this gap by examining the relationship between racialized practices and slavery from the perspectives of the Slavs and Arabs, past individuals whose histories remain intertwined in the material evidence of Arabic dirhams, coinage that flowed from the Arab World into wider Eurasia (c. 700-1100 CE). I examine the presence of Arabic coins in Eurasia as proxies for an interconnected system of captive-taking and enslavement that partly fueled the ancient global economy. I argue that the trafficking of humans into wider, trans-Eurasian slave trades was fundamentally connected to practices that became the predecessors to early modern forms of racialization. This historical case study has the potential to illuminate our understandings of diverse human experiences in the medieval past, to further clarify how perceived human differences have shifted across time and space, and to complicate ongoing debates on race and racialized practices within the wider humanities and social sciences.
---
AHN LEE (Spring 2021)
Department:  Art Practice 
Project:  The Platform Silkworm Project
 The Platform Silkworm Project is an extension of Ahn Lee's research and art practice. Lee is a nonbinary, queer Cantonese MFA student who researches silkworms and their connectivity, directly and metaphorically, to the Cantonese diaspora. Funding from CRG will build capacity for Lee's thesis exhibition at Berkeley Art Museum in Spring 2022; research for the exhibition will take place during their residency at Platform Artspace, a public art venue adjacent to Wurster Hall. Here, Lee will raise silkworms while facilitating open studio days and engaging in public discussions with UC Berkeley community. Lee's project historicizes silkworms in the Bay Area, focusing on the Piedmont Silk Experiment and Wakamatsu Silkworm Farm. Lee approaches silkworm cultivation (historically documented across the globe as "women's work") as an embodied research-creation process exposing a history intertwined with racism and sexism. Lee brings a critical race and gender framework to the community conversations she plans to hold, which will share the East/Southeast Asian ancestral practice of raising silkworms with the UC Berkeley community. This project has an undeniable urgency at a critical moment: we return to campus during a global pandemic while violence against Asians continues to rage in the Bay Area.
---
MEGHNA MUKHERJEE (Spring 2021)
Department:  Sociology 
Project Title:  Immaculate Re-Conception: Redefining Health and Reproductive Risk Using Prenatal Genetic Testing
Since its inception in the 1970s, prenatal genetic technology has been reshaping reproductive decision-making and health in the United States. However, the field remains loosely regulated, and providers and patients are ill-equipped and uncertain about how best to use prenatal genetic testing for reproductive decisions. Additionally, professional training and policies do not yet engage diversifying patient populations who have varying family desires. These gaps have implications for the future of reproductive and disability justice.
Accordingly, this dissertation asks how patients and providers (reproductive physicians and genetic counselors) involved in prenatal genetic testing are negotiating genetic knowledge, framing diagnoses, and contending with tensions about health identities. Further, I question how these negotiations are patterned unequally and how this affects varied patient populations. Using mixed qualitative methods, I harness provider and patient-centered experiences and perspectives to (i) unravel the co-production of socio-medical knowledge, (ii) inform policy interventions, and (iii) develop a reproductive justice-grounded theory about the reconceptualization of health and bio-citizenship. As individuals navigate prenatal genetic testing, their decision-making calls into question definitions of healthiness, ability, and existence. By illuminating how health is reconceived in the era of routinized technology, this research will advance protections for diverse families and solutions for critical reproductive and disability issues.
---
JESUS NAZARIO (Fall 2020)
Department:  Ethnic Studies 
Project Title:  From the Alto Balsas to the Long Point: Diasporic Nahua Political Formations Beyond Mexican-U.S. Borders
What relationalities are possible through Indigenous political mobilization in the Diaspora? The Nahuas from The Land of Fresh Water hold answers through their independence movement that began in 2016. My question is bounded in two interconnected places, the diasporic Nahua community in Houston, Texas and their originating Nahua town of The Land of Fresh Water in Guerrero, Mexico. After 300 years, people from The Land are seeking independence by breaking a communal land grant with another Nahua town to become a town with equal access to land, political representation, and cultural patrimony. However, Nahua elders and youth have varying goals for achieving political sovereignty and different modes of organizing for such goals.
Through a pilot research project, to be conducted in summer 2021, I seek to situate and analyze the state of their independence movement almost 5 years later. I seek to do so by interviewing the Fellowship Committee, the 7-member team that has led the movement to help The Land become a sovereign town. This current movement sheds light on contemporary Indigenous sovereignty movements happening in the Global South and offers methods and answers for how social media has enabled, and politically linked, social relations centered on Indigenous sovereignty.
---
LESDI GOUSSEN ROBLETO (Spring 2021)
Department:  Art History 
Project Title:  (Un)Mending Bodies: Patricia Belli and Feminist Artistic Praxis in Central America, 1986-2000s
"(Un)Mending Bodies" focuses on the work of the contemporary Nicaraguan artist, Patricia Belli (b. 1964), whose textile and mixed-media assemblages from the late 1980s through the early 2000s evidence themes related to gender, sexuality, and unruly bodies, during a critical time of transition in Nicaraguan social and political life. Looking closely at Belli's practice, my project considers how her work— which constitutes an expansive and rich archive of textures, materialities, and somatic languages— foregrounds a feminist sensibility that reworks the legacy of national aesthetics and socio-political discourses in the country. Following Belli's oeuvre, I center on the condition and possibilities of gendered matter and her unrelenting desire to craft new bodies. Thinking of bod(ies) in an expanded field—as corporal, social, political, and geographic containers—I consider how Belli's practice gives contours to the ways bodies are made and unmade during times of political crisis, and how the notion of mending, as a craft-based technique and feminist strategy, is deployed to unravel patriarchal discourses that condition bodies into closed forms. Through her textural interventions, Belli's works also allow us to explore a repertoire of feminist artistic praxis from this period, both in Nicaragua and across Central America, that come to create networks of resistance and exchange. My dissertation ultimately serves to demonstrate how these interventions serve as the foundation on which regional intersectional feminisms begin to take shape within contemporary art in Central America.
---
ELISA RUSSIAN (Fall 2020)
Department:  Italian Studies 
Project Title:  Autoethnography Visualized: The Case of Kym Ragusa
 In her writing and filmmaking, Kym Ragusa (1966) engages with methodologies from anthropology, ethnography, and oral history in order to investigate her mixed-race roots. The daughter of an African-American mother and an Italian-American father, Ragusa casts herself as both the author and object of her field research, whose aim is to critique the discriminatory practices exercised within and beyond her home. In works such asFuori/Outside(1997) andThe Skin between Us(2006), Ragusa calls into question the usefulness of ethnic categories and normative approaches to identity, and illustrates how the relationality of social contexts shapes the formation of individuals. Focusing in particular on representations of visibility and belonging, my project analyzes the thematic and formal relationships that resonate across Ragusa's experimental documentaries and autoethnographic narratives. I explore how Ragusa's accounts of the racial and economic inequalities she was confronted with in her youth serve not to narrate a sense of individual "exemplarity," but to unravel the ideological mechanisms at play in social reproduction.
---
KAREN VILLEGAS (Fall 2020)
Department:  Education 
Project Title:  Languaging "to be" Neoliberal: Understanding the Ideological Practices of the Naturalization Process
 The hostile challenges facing immigration in the U.S today needs to be understood as an extension of a much more complex racialized relationship dating back to the formation of the U.S. state through settler colonialism, racial capitalism, and neoliberalism in this historical specific moment, all of which work together to define institutionalized forms of belonging. The material effects of settler colonialism weave together economic and language ideologies to train immigrants to be literate in neoliberal citizenship. The role of language and literacy is mutually constitutive of the nation building process: language comes to be ideologized and therefore embedded within national identity. The construction of the neoliberal citizen is often mediated through English as a Second Language (ESL) Naturalization courses. Through participant observation of an adult, ESL Naturalization course and subsequent interviews with its students and their extended families, this project explores how colonial language ideologies are indexed within the Naturalization process and matriculate into the creation of the neoliberal citizen.
---
CLAIRE WRIGLEY (Fall 2020)
Department:  History 
Project Title:  Family, Nation, Empire: An Imperial History of Public Housing in Britain, 1890-2017
 From the late nineteenth century until today, two of the most controversial issues in British political, social, and cultural life have been the questions of what the British family is, and how it can be improved. I argue that a profoundly racialized and gendered logic of imperialism shaped public housing policy from the earliest efforts at reform in the late nineteenth century, making it one of the most consequential sites of state intervention into private, family life. My dissertation traces how the state strove to redefine what a home was, what activities could take place there, and what relationships constituted a British family. Using Britain's two largest and most diverse cities, London and Birmingham, as case studies, I show that the overarching goal of public housing policy was to limit the social reproduction of 'unfit' Britons and to promote instead the reproduction of socially acceptable, politically useful, and economically productive citizens who would uphold Britain's status as an imperial power. In the process two of life's most fundamental concepts—'home' and 'family'—became racialized, and the home became a distinct but not necessarily bounded space; not just political, but politicized.
---
PENG YIN (Spring 2021)
Department:  Education 
Project Title:  The Racialization of International Student Mobility: Roots, Effects, and Implications for American Higher Education Institutions
My dissertation investigates how international student mobility (ISM) in the context of American higher education institutions (HEIs) has become increasingly subjected to an emergent paradigm of racialized otherness. To contextualize my inquiry on the paradigm of racialized otherness, I choose to focus on a specific and vibrant body of the international student population enrolled in American HEIs, i.e., undergraduate Chinese international students. As an illustrative case, examining the paradigm of racialized otherness vis-à-vis the undergraduate Chinese international students aims to offer a distinctive yet nonexclusive lens to probe into the racialization of ISM on a broader scale. My dissertation consists of three papers. Paper 1 adopts the method of critical discourse analysis to examine and identify the undergirding constituents of the paradigm of racialized otherness. Paper 2 draws on the framework of item response theory (IRT)-based modeling to construct and validate a measurement instrument that taps into the students' perceptions of the undergirding constituents of the paradigm of racialized otherness. Paper 3 takes the approach of multi-sited ethnography to explore how to leverage the affordances of the students' everyday learning and living experiences to tackle the paradigm of racialized otherness.
JUSTIN DELA CRUZ (Fall 2020)
Department:  Ethnic Studies 
Project Title:  Queering the Closet: How LGBTQ+ Filipino American Undergraduates Disrupt Normative Frameworks of Coming Out
This research examines the ways in which queer Filipino American college students at UC Berkeley obscure, rearticulate, and disrupt normative frameworks of coming out discourse. By focusing on how this group negotiates and experiences the social construction of being "closeted" (the status of partially or completely keeping hidden one's non-heteronormative sexual orientation to the self or broader society), I seek to understand the methods, mechanisms, and tactics they develop in order to successfully navigate a pivotal, transitory moment in their lives. By conducting one-on-one interviews with queer Filipino American undergraduates, autoethnography, and a critical film analysis of Greg Berlanti's film, Love, Simon, I explore the intersections of race, ethnicity, sexuality, and gender to understand how identity is negotiated as a means of survival and to articulate the limits of mainstream coming out narratives. This work shall allow me to develop a theoretical framework that destabilizes, complicates, and expands our current understandings of queer Asian diasporic experience. 
---
JACQUELINE FORSYTE (Fall 2020)
Department:  American Studies 
Project Title:  Race, Trans* Identity, and Nation in Los Angeles: La Fiesta de Los Angeles of 1894 and the Anti-Masquerading Ordinance of 1897
In the 1890s, Los Angeles transformed itself for a civic festival that sought to mark American  Westward colonization as complete. La Fiesta de Los Angeles of 1894 and the Anti-Masquerading  Ordinance of 1897 demonstrate a particular cultural obsession with classifying, ordering, and  othering along gendered and racialized lines. La Fiesta's first parade actualizes the ordered display of Chinese, Japanese, Black, and Indigenous people, codifying settler and white-supremacist notions of  racial progress. Furthermore, the masquerade ball, which closed out the event, reified anti-Trans*  sentiment and led to a series of laws that criminalized Trans* people. My research seeks to explore  the impacts of these two events on Los Angeles—the surveillance, policing, and incarceration of  Black, Japanese, Chinese, Indigenous, and Trans* people and communities. In addition to producing  a senior thesis in American Studies, the Center for Race and Gender is supporting my project to edit  the Wikipedia pages for these two events. I aim to interrupt harmful narratives and practices on the  site, create public-facing dialogue, and build momentum for future scholarship.
---
DA EUN JUNG (Fall 2020)
Department:  Sociology, Legal Studies 
Project Title:  Korean Women's Perceptions on Korean Abortion Policy Changes and the U.S. Abortion Debate
The Republic of Korea is a country that will soon be legalizing abortion (2017Hun-Ba127). In contrast, abortion has been legal nationally throughout the United States since the Supreme Court decision Roe v. Wade (1973), though restrictions have been gradually increasing since the 1980s. This study will conduct 10 to 20 in-depth interviews with fertile Korean women between the ages of 16 and 44 who have experienced sexual intercourse. The goal of this cross-cultural analysis is to provide insight into how Korean women perceive their own country's future abortion legislation in comparison to U.S. abortion history and its current (restriction) debate. Questions asked will relate to their opinions about Korea's abortion rights transition, their anticipation of the future state of abortion in Korea, and their interpretation of the U.S. abortion debate.
---
NILUFAR KAYHANI (Spring 2021)
Department:  Public Health 
Project Title:  Sofreh Salamati: Creating A Health Education Intervention for Afghan Refugee Women
I co-created Sofreh Salamati with my sister, a medical student, to address the paucity of knowledge about Afghan women's health. Sofreh is the Dari (the official language of Afghanistan) term for a spiritual banquet organized exclusively by and for women. They have historically functioned to unite women for social, spiritual, and psychological purposes. Salamati is the Dari term for health and well-being. Thus, Sofreh Salamati is a project intended to unite the traditional healing of social networking that Sofrehs facilitate with culturally sensitive, language concordant health education. Through this initiative, we aim to promote the individual agency of Afghan women through creating a novel health intervention. Our current efforts can be viewed at AfghanClinic.com
---
EMILY MANTARO (Fall 2020)
Department:  History 
Project Title:  Sterilization and Abortion in the Late Weimar Republic: Policy, Personal Choice, and Eugenics
This thesis aims to examine the results of governmental attempts to control abortion and sterilization in the lives of ordinary women and physicians in the late Weimar Republic. I hope to illuminate ways in which the intersection of policy and personal choice affected women of different demographics in Germany, including class, race, age, and those classified as "asocial," based on assigned classifications and notions of eugenic desirability in a democracy that shortly after came under Nazi control. Instead of simply highlighting higher level policy and heavily male political parties' impacts in a top-down method of controlling women's bodies, I plan to spotlight the ways in which women in the Weimar Republic responded to these laws, both being affected by and affecting policies and policy implementation on abortion and sterilization, including in the court system. Ultimately, I hope to explore this research question: How did individuals, particularly women and physicians, follow and to what extent did they subvert laws regarding the termination of pregnancies and sterilization in the late years of the Weimar Republic, and how was this subversion legally punished or ignored? 
---
LAURA YANETH MARTINEZ (Fall 2020)
Department:  Sociology 
Project Title:  Desviando "What's best for those kids": An Analysis on the Implementation of Ethnic Studies in K-12 Schools
My project seeks to illuminate ethnic studies as a tool of resistance against the oppressive roots in our American education system. Through in-depth qualitative interviews, I will analyze the practices and strategies k-12 ethnic studies teachers use to deconstruct traditional ways of learning. In my research, I will evaluate how ethnic studies educators are able to reconstruct, reclaim and resist the "norming of America," a term that will refer to the practices within the broader education system that serve and mold others into what the educational system believes is the traditional student. This study will explore ethnic studies beyond just the content of the curriculum, in order to demonstrate how the program directly combats exclusionary policies that have repeatedly discriminated against first-generation, students of color, and or other non-traditional students.
---
ZANIB NAEEM (Spring 2021)
Department:  Art Practice, Psychology, Interdisciplinary Studies 
Project Title:  Brainscenes 
The cerebral world is continually relegated to academic spheres: the workings of neural networks in the brain is esoterically accessed through scientific journals and textbook passages, with the dysfunction of the brain becoming a medical struggle, clinics and research facilities dedicated to discovering and uncovering the mysteries of our mind. Seen less often is the integration of neuroscience through an artistic lens, the critiquing and the boundary pushing of what the brain could look like, could represent, could contain.
This project aims to diversify what the brain could look like by depicting the Southasian women of Mughal artwork directly onto the surface of our cerebral cortex; it is an attempt at reinterpretation, representation, and spirituality in the moments that we are most human: peaks of mindfulness when connecting, laughing, and engaging with others lovingly. I would like to mold twenty brains revolving around the themes of traditional Indian and Persian miniature painting, with a focus on the emotional lives of Southasian women, with hints of Islam in the use of text.
---
MARIA CRISTINA ORTIZ (Spring 2021)
Department:  Ethnic Studies, Political Science 
Project Title:  Forbidden Fruit: Exposing the Underbelly of Napa's Wine Industry Through the Exploration of Latinx Immigrant Labor
This research is an exploration of immigrant labor, particularly Latinx immigrant labor and the growing second-generation Latinx population, who find themselves institutionally straddled between remaining trapped in the cyclical agricultural and service work sectors, and achieving their own "American Dream." In focusing on how this community understands their own stratification based on their identity as it pertains to race, class, gender, and recognition, I seek to identify common threads illuminating what institutional and social holds tie them there, as well as possible exit points that allow them to transcend the holds previous generations reckoned with. Through conducting personal interviews with folks living this reality in both generations, examining existing statistics about Latinx immigrant labor in the Napa Valley, and drawing historical arcs between the two, I explore the relationship between this niche community which is hyper-invisibilized to the public world, and their own confrontations with identity, belonging, disposability, and equity. Identifying these newfound ruptures of the Valley's fabric will allow me to disrupt and complicate existing public discourse, consciousness, and understanding as well as propose new frames through which to understand this seemingly growing, and changing population. 
---
SYDNEY PON (Fall 2020)
Department:  Sociology 
Project Title:  Yellow Peril to "Kung Flu": How Disease has Racialized and is Racializing Asian Americans
The rise of the COVID-19 pandemic marked a unique epidemic among Asian Americans: the upsurge of racism and xenophobia against Chinese Americans. Anti-Asian sentiment, however, is not a new phenomenon as the Chinese Exclusion Act and the Yellow Peril movement of the early 1900s aimed to demarcate boundaries of citizenship and render foreigners as diseased "others." Today, racial categorization of Asian Americans is complicated; while some scholars consider Chinese Americans as "perpetual foreigners" incapable of assimilation, others argue in favor of the "model minority," citing high socioeconomic status as an indicator of overcoming racism. On the other hand, public health literature largely misses the histories of Asian Americans' medicalization which can be traced to health screenings at immigration stations. Through the lens of critical race theory, I examine the case of anti-Chinese American exclusion to analyze how disease and health discourses racialize Asian American communities. This study employs an archival analysis of President Trump's tweets and speeches from 2020 to investigate how Presidential discourse influences the public's racial opinions. Using interviews from Asian American and Pacific Islander community-based organizations in the San Francisco Bay Area, I also explore how Asian Americans navigate xenophobia and experience exclusion during the coronavirus pandemic.
---
S. REEVES  (Fall 2020)
Department:  Interdisciplinary Studies
Project Title:  Severance / Proximity: An Autotheoretical Exploration
I believe that the most ethical research is the examination of and through the self because research often applies academic theory and exploitative measures to communities far removed from the elite university. Autotheory is a method and narrative form that puts subjective and autobiographical materials in conversation with theoretical and philosophical frameworks to explore and analyze broader institutions and systems. For my project, I am writing an autotheoretical piece that explores themes of gender, race, sexuality, consent, love, intimacy, imagination, knowledge production, and death through narrative forms such as autobiographical storytelling, poetry, photography, and other art forms. I will interrogate whiteness, queerness, gender, and ability through the lens of my own socialization and by applying the critical and creative theories and works from queer and trans people, Black people, Indigenous people of the Americas, people of color, and people at intersections of identities previously and not mentioned.
---
SERA SMITH (Spring 2021)
Department:  Rhetoric, African American Studies 
Project Title:  Rearticulated Healing Experiences in the Adaptation of "for colored girls who have considered suicide / when the rainbow is enuf"
Ntozake Shange's 1976 choreopoem for colored girls who have considered suicide / when the rainbow is enuf is a work that many Black feminists continue to celebrate today. When Nzinga Stewart, a Black woman filmmaker, attempted to produce her 2006 adaptation of the play, she was directed to Tyler Perry, who rewrote the script and produced his 2010 film For Colored Girls. Sera is studying Stewart's unproduced adaptation to recognize Stewart's intellectual contributions to Black feminism. She uses rhetorical analysis to study representations of healing in Stewart's screenplay. The project involves examinations of materials at Shange's archive, interviews with Stewart, and secondary sources about each work, healing and Black feminism.